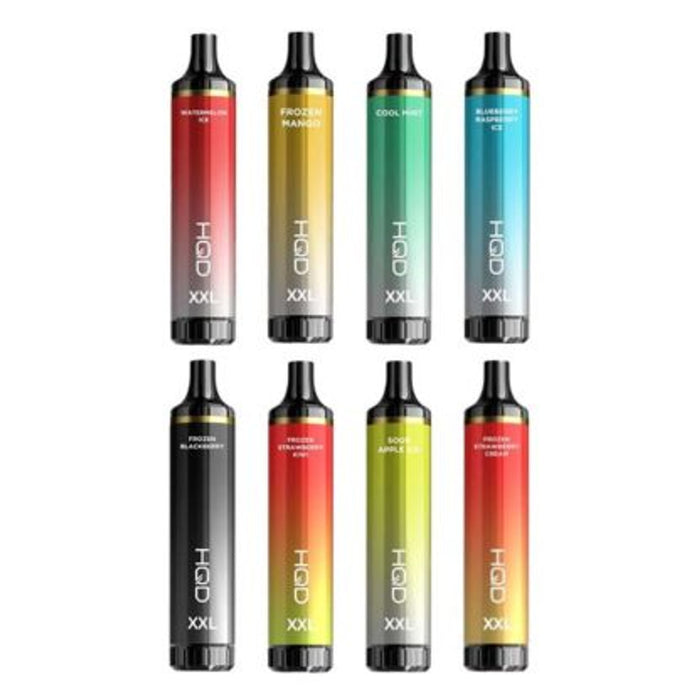 HQD XXL 4500 Puffs Disposable
Sale
Sale
Original price
KSh1,400.00
Original price
KSh1,400.00
-
Original price
KSh1,400.00
Original price
KSh1,400.00
Current price
KSh1,100.00
KSh1,100.00
-
KSh1,100.00
Current price
KSh1,100.00
What is HQD XXL?
HQD XXL is a pre-filled disposable electric cigarette, also known as a disposable vape, offering a wide range of intense flavors. This convenient device allows you to enjoy vaping anytime, anywhere, without the need for charging, buttons, or warm-up time. Say goodbye to unpleasant smells, as HQD XXL emits no lingering odor, ensuring you won't smell like regular cigarettes. Whether you want to avoid the hassle of refilling or maintaining traditional e-cigarettes, or if you spend long periods in non-smoking environments, such as offices, restaurants, or parties, HQD XXL is the ideal choice.
Who can use HQD XXL disposable electric cigarettes?
The use of HQD XXL disposable electric cigarettes, especially those containing nicotine, may be regulated differently in various countries. Users are responsible for checking and complying with their respective regulations. With over 40 flavors available, HQD XXL caters to a wide range of preferences. It comes in nicotine-free and nicotine-containing variants, with options of 0% to 5% nicotine strengths. Whether you're a serious smoker or a casual enthusiast, there's a suitable HQD XXL for you.
How to use HQD XXL electric cigarettes?
Using HQD XXL is incredibly simple. After removing the packaging, just take off the transparent protective cap from the capped end and start vaping right away. Raise the device to your mouth and inhale, and the device will automatically provide a satisfying vapor. There's no need for refilling—once the device is empty, you can dispose of it responsibly. Feel free to start and stop using the device as desired; there's no need to switch it on or off since it does so automatically.
Frequently Asked Questions:
How much nicotine do HQD XXL products contain?
- The nicotine content is clearly indicated in the product description or name.
Can the device be charged?
- Generally, no, as HQD XXL devices are disposable. However, certain models, such as the 3600/5000 puff variants, may offer charging capability.
Are these original HQD products?
- HQD XXL is sourced directly from the manufacturer, ensuring authenticity. To verify, you can scan the QR code on the packaging.
Is there a warranty for HQD XXL?
- Unopened products can be returned within 14 days, or we can provide a refund for your purchase.