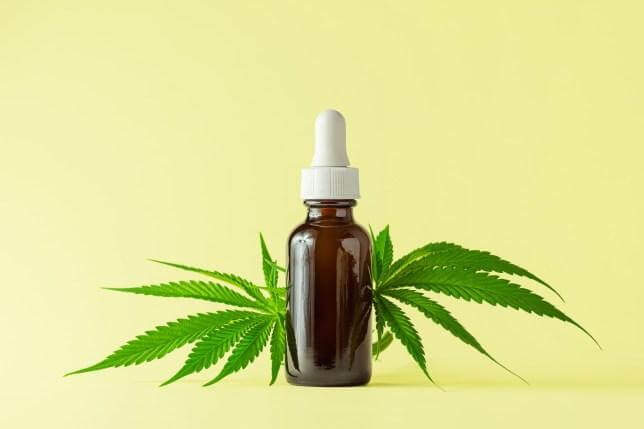 A beginner's guide to CBD oil
CBD oil has become wildly popular in the US and UK in recent years.
According to the Centre for Medicinal Cannabis, the UK CBD market is currently worth £300m and is expected to reach £1 billion by 2025.
High street stores now sell a wide range of CBD tinctures (concentrated CBD extract suspended in a base oil) and other oral/topical products.
CBD stands for cannabidiol and is one of over 110 chemical compounds known as cannabinoids which are found in the cannabis plant.
These chemicals act on cannabinoid receptors located throughout the body as part of its endocannabinoid system, which helps balance a whole host of bodily functions like pain sensation, mood, memory, and appetite.
Our bodies naturally produce endocannabinoids, which are the equivalent of those found in the cannabis plant. The endocannabinoid system is self-regulating, but many of us need a boost – this is where CBD supplements come in.
There's a stigma around cannabis because it contains THC (tetrahydrocannabinol), the illegal psychoactive component that gets you high. However, isolated CBD isn't psychoactive whatsoever, and is not considered a controlled substance in the UK.
What does CBD do?
CBD was first isolated and identified back in 1940, while THC had its discovery in the 1960s. Despite CBD's earlier unearthing, research has mostly focussed on THC, so there's still a lot to learn about cannabidiol.
Several clinical trials have shown CBD as an effective treatment for epilepsy – late last year, the NHS approved two CBD-containing medicines for use in treating certain types of the illness.
There's also evidence that CBD may help ease symptoms of other medical conditions such as anxiety, depression, Alzheimer's, Parkinson's, Crohn's, arthritis and addiction. However, research is limited in these areas.
Under UK law, over the counter ingestible CBD products are classed as food supplements, therefore cannot make any medicinal claims. If a product claims it can cure all ills, it's breaking the law. This is why most CBD products are marketed as wellness supplements.
Are there any side effects?
According to Harvard Medical School, side effects of CBD can include nausea, fatigue and irritability.
It also states that 'CBD can increase the level in your blood of the blood thinner coumadin, and it can raise levels of certain other medications in your blood by the exact same mechanism that grapefruit juice does'.
As with any supplement, speak to your doctor before taking CBD to ensure it won't interact with any medication you're on.
Although there are recommended maximum doses, a 2017 World Health Organisation (WHO) report states that it's not possible to overdose on CBD. The WHO also advises that cannabidiol is not addictive in humans.
Is an oil tincture the best way to take CBD?
Oil tinctures are a popular way to take CBD.
Drops are administered under the tongue and held for around 60 seconds to allow maximum absorption.
As well as oil tintures, you can buy CBD sprays, capsules, vape cartridges, and edibles like infused gummies, chocolate and drinks.
The length of time a product takes to work varies per person. Getting to work instantly, vaping CBD is the fastest way to feel its effects, however health risks have been raised about vaping.
Edibles generally take a bit longer than tinctures to start working their magic – while oils taken sublingually can kick in after 15 minutes, anything that has to pass through the digestive tract may take from 30 minutes to two hours to get working.
What's the best strength and dosage for me? 
We're all different, so there's no one size fits all. It's best to start at a lower dose and see what that does for you, before gradually increasing to find your optimal amount.
'The area where there is least known about CBD is around dose, particularly for different purposes,' explains Al Overton, Planet Organic's UK Buying Director, who oversees CBD products the store stocks.
'I would say typically advise with taking a 10% oil (it's quite bewildering because you can get 5%, 10%, 15%, 40%, etc) and with a lower dose and building up until you find something that works.
'There's no point in buying a huge expensive oil and burning through it in three days if you can get the effect you're looking for with a lower dose.'
The world of CBD can be confusing – I spent hours researching strength and dosage when I bought my first bottle of CBD oil.
Brands will usually tell you the amount (in mg) of CBD in the entire bottle, and the percentage. If you're lucky, you'll also be told how many mg is in each drop. Not all brands do this so it can be hard to compare different products.
Should I buy CBD isolate or broad/full-spectrum?
To add to the confusion, it's not just about the strength of CBD in your product – it's whether the CBD is flying solo or with other cannabinoids.
CBD isolate is the purest form of naturally occurring CBD, and broad/full spectrum oils contain a range of other cannabinoids.
Scientists first coined the term 'the entourage effect' in 1998, with research suggesting that cannabinoids work alongside CBD to increase its effectiveness in the body's endocannabinoid system.
There have been further studies both proving and disproving this theory, so the official jury is still out.
While you may need more CBD isolate to feel the desired effects, its advantage is that it won't contain any THC whatsoever, whereas many broad-spectrum products contain a trace.
When should I take CBD?
Some people find CBD relaxing while others find it stimulating, so it's a case of trial and error.
Try taking it at different times of the day and keeping a diary of how you feel. You might also prefer taking a few smaller doses over 24 hours, rather than all in one go.
'The therapeutic level of CBD that you take can accumulate through the day so you don't necessarily need to take one big dose,' explains Planet Organic's Al.
There is evidence to support that using CBD as part of a fitness regime can aid muscle recovery, thanks to its anti-inflammatory properties.
It's worth incorporating your regular CBD oil into your exercise schedule to see if it helps before you fork out on a sport-specific version.